---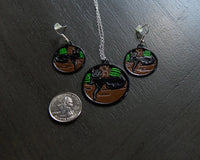 These are my Black cat on a log Pendants sets! Leather chain image coming soon
• The oldest known pet cat existed 9,500 years ago
• Cats spend 70% of their lives sleeping
• A cat was the Mayor of an Alaskan town for 20 years
• Cats walk like camels and giraffes?
• Isaac Newton invented the cat door
• Ancient Egyptians would shave off their eyebrows when their cats died
• House cats share 95.6% of their genetic makeup with tigers
These Black cat on a log Pendants sets come with the following in a jewelry box
• Plated Silver or waxed leather chain
• Matched pair of earrings
• Earrings will have Silicone tips to help you keep your pair
• All ear wires are plated Sliver
These are about 1 3/8 in dia and about 1/16 thick
All orders ship with USPS with a cost of $3.00. If you Purchase $50.00+ all shipping is free. Typically, most orders will ship within 1-3 days
These earrings are 3d printed using a printer that can-do multiple colors at one time. This process requires some special 3d modeling and the printing process is very time intensive. These earrings also have a special processing to get the shiny finish witch also bonds the different colors together. The material that is used is a special blend of ABS (think Legos) that is designed to break down in an active landfill so these will not add as much to our plastic pollution problems.
These earrings do not have any issues with heat like a hot car. Do not expose these earrings to acetone or super glue as these chemicals melt this plastic.